There are many reasons why Jeep is the
most awarded SUV brand of all time
. With unbeatable performance, exhilarating power, stunning good looks, and state-of-the-art technology, Jeep refuses to compromise so that drivers never have to either.Jeep has always stayed ahead of the game when it comes to cutting-edge features that expand vehicle capability. Many of the
newest Jeep SUVs
offer an outstanding 70+ active driver safety technologies to allow to unprecedented confidence on and off the road. Two of the most exciting of these innovative technologies are Jeep LaneSense® Lane Departure Warning with Lane Keep Assist and the convenient Bling Spot Monitoring System.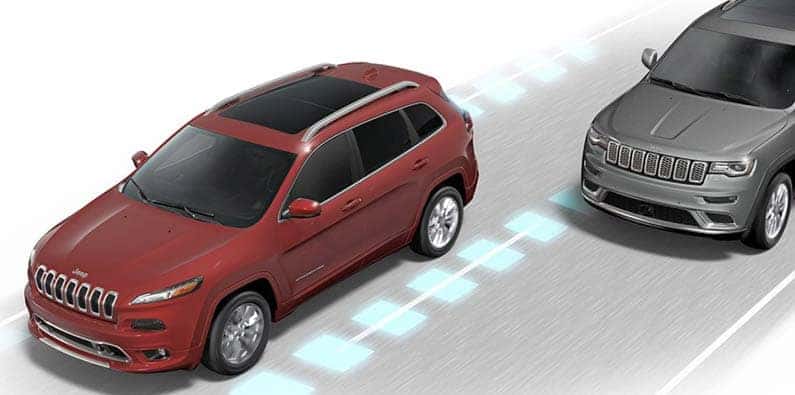 LaneSense® Lane Departure Warning with Lane Keep Assist
This safety technology employs a camera-based sensor to determine the vehicle's position on the road and provides warnings/assistance when drivers unintentionally drift outside of a designated lane. If the vehicle notices a sudden trajectory alteration without turn signal activation, the driver is offered a visual alert as well as a haptic warning in the form of subtle torque from the electric power steering system. If the drift isn't immediately corrected, a second warning is issued.
This warning system is intuitive and unobtrusive, helping keep drivers a step ahead of potential hazards.
Blind Spot Monitoring System
Jeep's Blind Spot Monitoring System acts as a trusted copilot along for every adventure, big or small. This sophisticated system uses sensors to scan surrounding lanes and, when a turn signal is activated, issues a warning if a vehicle is detected in a blind spot zone. If this technology senses a potential collision, an audible chime accompanies an illuminated icon in the corresponding exterior mirror.
Both of these technologies are user-friendly and help take the stress out of driving so Jeep drivers can focus on what's really important: discovering every nook and cranny of the world around them.