2018 Jeep Wrangler is Getting a Redesign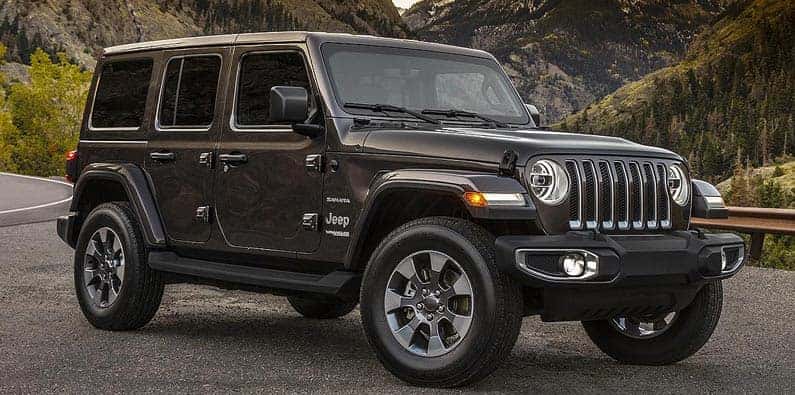 For the first time since 2006, the Jeep Wrangler is getting a redesign. Fans finally got the chance to see for themselves what's in store when the Wrangler is released in 2018. On Halloween, at Las Vegas' Specialty Equipment Market Association show, Jeep displayed a brand-new line of accessories that it's been working on in-house. Though Fiat Chrysler Automobiles (FCA) US and Jeep released few details, leaks and spy pictures of the highly-anticipated off-roader showed off the fruits of labor springing from the hard work that Mark Allen, Jeep's chief engineer, and his team put into it.
Engines
The Wrangler will continue to offer a standard 3.6-liter V-6 engine that provides 260 lb-ft of torque and 285 horsepower but two optional engines will also be available as the model year progresses. The first is a turbocharged 2.0-liter inline-four engine that is similar to the one in Alfa Romeo's Giulia sedan. It is expected to deliver 280 horsepower and 306 lb-ft of torque. The other engine is similar to the EcoDiesel V-6 used in the Grand Cherokee. This engine makes 420 lb-ft of torque and 240 horsepower.
Transmissions
The standard transmission available for 3.6-liter gas-powered V-6 Wranglers is a six-speed manual with an optional eight-speed automatic built by FCA also available. An eight-speed automatic is the only transmission paired with the 2.0-liter inline-four engine while U.S. versions of the diesel-powered Wranglers will feature a six-speed manual. Also available with that engine is a more powerful eight-speed automatic built by ZF Friedrichshafen in Germany. The steering wheel-based paddle shifters enable quick, on-the-fly shifting with an automatic transmission.
Technology & Interior
The Wrangler gets the Uconnect infotainment system, FCA's premium offering that features an 8.4-inch touch screen as well as Android Auto from Google and CarPlay from Apple as options. According to a leaked user guide, the touch screen will provide pages for trails and off-road performance. Other new features include: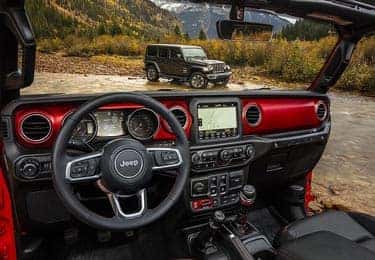 Instrument cluster with new 7-inch driver information screen
Push-button ignition
Optional remote start
Center stack with four auxiliary control buttons to make it easier to add after-market equipment
Styling
A slightly redesigned grille will feature seven slots and round headlights. LED horizontal daytime running lights will be located on trapezoid-shaped fenders. The front quarter panels, located just beyond the fender flares, will have a matching pair of distinctive vents.
Axles
The new Wrangler will continue to have a floating axle design, making the addition of lift kits and the like easier. It will feature upgraded floating Dana 30 and Dana 44 AdvanTEK axles. These are both stronger and lighter than those used currently.
Safety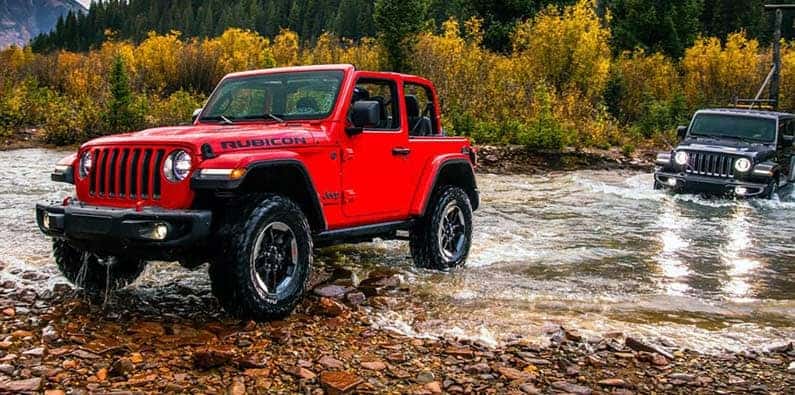 In order to meet regulations, the new JL Wrangler will include safety modifications, such as one that enables the fold-down windshield to comply with regulations governing roof crush safety. Solid A-pillars, parking sensors, blind-spot monitoring, and an electronic system for brake control are other changes.
Production on the JL Wrangler hardtop is slated to start in November while December marks the start of dual- and soft-top four-door models.